There are many things that I have never done in my 47 years upon this earth.
I have never:
Been to Mars.
Wrestled a Great White Shark in a tub of jelly – lime flavour, since you asked.
Completed a Legend Of Zelda game.
Hopped on one leg for 24 hours without stopping whilst eating noodles with chopsticks.
Won the heart of a fair maiden. Still.
Successfully looked after a plant without it dying before its time.
Ridden a mammoth.
Ridden a prehistoric creature of any kind.
Pushed the button at a level crossing and have the light change immediately.
Put 6 ping pong balls into my mouth and recited a poem without dribbling.
Put 6 ping pong balls into my mouth.
Been bitten on the bum by a bullet ant.
None of these things has ever bothered me before. And, if I'm honest, they still don't.
BUT, there is one thing that has always eluded me and by gum if it hasn't been eating away at me like a ravenous termite through a particularly tasty timber house. So, what, what is it that has been bothering me like a haemorrhoid to a professional bike racer, I hear you cry?
It is this:
I HAVE NEVER HOSTED A COVER REVEAL!!
That is correct Beardy Book fans, my life has been incomplete……..UNTIL NOW!
Thanks to the magic of Rachel Amphlett and her superb Kay Hunter Series, I am now able to realise my dream.
What you will see below, materialising before your very eyes, those very eyes inside your very eye sockets, is the cover for book #6 in Rachel's Kay Hunter series, Gone To Ground.
Are you ready?
I said ARE…YOU…READY?
Breath deeeep…control your bladders…here it comes…
Oh, bugger, that's not it. That's a rabbit's arse Going To Ground. Sorry, bare with me a sec…
Gah, nope, that's still not it. Hold on….
Nope, those are coffee grounds…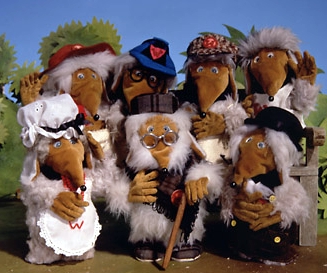 Oh, for fu…those are Wombles, they live under ground.
Ok, one. last. time…
FINALLY!!!!!! WOOOOOOOOOOOOOOO! It's a moody beast, innit. I wonder what Kay is looking at here. Maybe she's thinking, 'bugger, I really should have worn better shoes for this job.' or 'I wonder how fast that digger can go? Will anyone notice if I nick it and have a quick go?' Either way, it's a great looking cover with that wee blue accent thing going on there.
Look, this one even has some live birds trapped within it. It's witchcraft.
Plus, sidenote, I hope that that book isn't actual size, 'cos that will be a right bastard to carry around or even to read in bed. Seriously.
Anyhoooooooo, check out this wonderful series. You won't regret it. Or maybe you will, but how will you know if you don't try, eh? Exactly, I rest my case. 🙂
Gone To Ground will be released on 8th July 2018.
Gone to Ground
(Detective Kay Hunter series)
by
Rachel Amphlett
While attending a crime scene on the outskirts of Maidstone, DI Kay Hunter makes a shocking discovery.
The victim has been brutally cut to pieces, his identity unknown.
When more body parts start turning up in the Kentish countryside, Kay realises the disturbing truth – a serial killer is at large and must be stopped at all costs.
With no motive for the murders and a killer who has gone undetected until now, Kay and her team of detectives must work fast to calm a terrified local population.
When a third victim is found, her investigation grows even more complicated.
As she begins to expose a dark underbelly to the county town, Kay and her team are pulled into a web of jealousy and intrigue that, if left unchecked, will soon claim another life.
Gone to Ground is a gripping serial killer thriller full of page-turning suspense, and the sixth book in the Detective Kay Hunter British detective series:
1. Scared to Death
2. Will to Live
3. One to Watch
4. Hell to Pay
5. Call to Arms
6. Gone to Ground
Before turning to writing, Rachel Amphlett played guitar in bands, worked as a TV and film extra, dabbled in radio as a presenter and freelance producer for the BBC, and worked in publishing as a sub-editor and editorial assistant.
She now wields a pen instead of a plectrum and writes crime fiction and spy novels, including the Dan Taylor espionage novels and the Detective Kay Hunter series.
Originally from the UK and currently based in Brisbane, Australia, Rachel cites her writing influences as Michael Connelly, Lee Child, and Robert Ludlum. She's also a huge fan of Peter James, Val McDermid, Robert Crais, Stuart MacBride, and many more.
She's a member of International Thriller Writers, Mystery Writers of America, and the Crime Writers Association, with the Italian foreign rights for her debut novel, White Gold sold to Fanucci Editore's TIMECrime imprint, and the first four books in the Dan Taylor espionage series contracted to Germany's Luzifer Verlag.
https://www.rachelamphlett.com/
https://www.instagram.com/rachelamphlett/